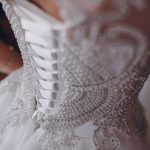 Its been an exciting year for the British public with another Royal wedding. Meghan Markle certainly lived up to all our expectations back in June, she was a stunning bride. Lets be realistic though, most of us don't have £200,000 to spend on a Givenchy dress. The same beautiful style can be recreated at a fraction of the price. If you're getting married this year or next year then its probably sensible to set a budget. Bridal fabrics don't have to brake the bank.
Satin Bridal Fabrics
Here at Calico Laine we sell an excellent selection of Bridal fabrics. The first and most important job is to chose the style of your dress or your bridesmaid dresses then you can can select the correct fabric. One of my favourite bridal fabrics is the Satin back Dupion, this line is reversible and resembles a mock pulled silk on one side while the other side has a satin finish. The Satin back Dupion is quite a stiff satin and would suit a strait or an A-line skirt perhaps.
I particularly like this fabric line for 2 reasons, firstly I love that matt silk look, its ideal for bridal wear but is a little different to traditional satin's and more flattering if you're more curvy. Secondly having a reversible fabric means you add additional detail to your dress, for instance a contrasting waist band or sash in the alternative side would break up a completely plain look while still remaining the same colour. This can also be achieved with our Satin back Crepe bridal fabric.
Another favourite of mine is the stretch satin we stock within our bridal fabric range. I am a fan of stretch fabrics because they give you a flattering fit. The stretch satin is suitable for a more fitted style dress which requires a medium weight bridal fabric. The colour range is stunning, its lovely to work with and the stretch satin is also washable.
Whatever Bridal Fabrics you have in mind for your big day then I'm sure we'll have something to suit you.