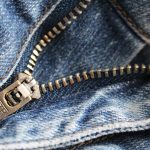 The zip fastener or 'clasp locker' has been used for many years in dress making and haberdashery and its use has evolved over this time as well as its name with it commonly being referred to as zip, zipper or fly.
The functionality and design of the zip has made it a popular choice in securing fabric together. It is a practical, easy to use and secure mechanism with different variations and uses. The popularity of the zip has led to a huge trend which involves taking away the function of the zip and simply using it as a design feature. What was once a fastener with practical uses has now become a feature in many designs typically associated with giving an edgy look to clothing and accessories.
So whether you are looking to secure fabric together or want to add interest and edge to your design then we have the solution. There are so many zips to choose from and if you are looking for a particular type of zip then look no further than Calico Lane. We stock a wide range of zips to suit whatever function, style or look that you are going.
Here are some of our most popular and most used zips...
Concealed Zips
If it is purely function that you are going for then concealed, invisible zips are the way to go. Concealed zips are perfect if you are looking for a sleek fastening that fits seamlessly into your design, and look delicate and clean when placed properly within the seam.
We have a vast range of colours and shades available so you can achieve the concealed, discreet look. Concealed zips are suitable for all types of material and although they look delicate they are great for heavier fabric due to their strength and durability.
Zips for Dresses
Choosing a dress zip depends on the style of dress and your design but we recommend our supply of YKK dress zips as they can be used for various types of dresses with various materials. YKK zips are lightweight yet durable and are perfect for evening gowns.
We have a variety of colours available in this type of zip. To create an elegant and sleek look pair your dress with a zip of the same colour or to create an interesting, fashionable piece, clash colours by contrasting the colour of the zip against the colour of the garment.
Brass Zips for Jeans
Brass Zips are often the first choice for jean fastening and are where the term 'fly' is usually associated. Jeans need to have a durable fastening as denim is a heavy material and the strong teeth on our jeans zips means you can be wearing your favourite pair for years to come!
We use brass zips for our jeans which are available in a range of traditional denim shades or quirky colours such as red.
Our Top Tips When it Comes to Zips!
Zips are a great way of combining function and design. If you are looking to follow the trends of Vogue then go for an exposed zip, one way to this is by clashing colours and making the zip stand out on the garment.  
Remember, one zip does not fit all so we suggest you use our guide to ensure you get the right zip for the right garment. Zips are here to stay, so add them to your design using our fantastic range.
Need more inspiration? Take a look throughout our site and social media pages where you will find endless craft and haberdashery supplies and ideas.