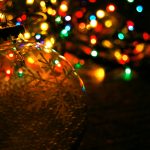 Looking for something festive to do with the family over the Christmas period? Why not create your very own Christmas 'Crafternoon'! This is a great idea to get the kids involved in crafting or just for bringing the family together with a few Christmas tunes and a glass of mulled wine. With Calico Laine's online store, you don't even need to leave your home to plan a festive get-together. We have a huge range of festive bits and bobs to inspire the whole family. Here at Calico Laine we have everything from jingle bells to Christmas ribbons, felts, beads and more. You can even buy fabrics online! This is a great way to tick things off your to-do list easily and quickly, because we all know how much planning goes into those festive few weeks
Festive Rag Wreath
An easy no-sew idea is a festive fabric rag wreath; all you need is a wreath ring, some fat quarters and pretty ribbon. We have an entire dedicated Christmas section on our website to buy your fabric online, our favourites always have a little sparkle! To create your own; cut your favourite fabrics into strips and simply tie each piece around the wreath (the messier the better). Finish off with a loop of ribbon at the top, along with all the glitter and bells your heart desires. This is a fab alternative to a fresh wreath and can be a real giggle to decorate.
Tree Decorations
Now this one needs a little imagination because the possibilities are literally endless. If you're planning for the kids then why not try handmade felt decorations? All you need is a few felt squares, ribbon and glue. Just hand out the materials and let them decide the rest. For the more advanced, a few traditional knitted and crocheted decorations never go amiss! Tree decorations give a lovely handmade touch to your home and can be used year-on-year to fill your tree with memories.
Don't forget to send us photos of your own crafternoons! We love to see our customers beautiful creations and sharing inspiration.