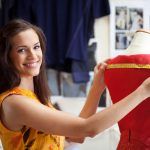 Calico Laine specialises in Dress Fabrics and we find it extremely satisfying to offer such an exciting and fashionable assortment of fabrics that will fulfil your every wish! Every week we have AT LEAST one new material come in and so our range grows constantly adding to our already ginormous stock.   Our stunningly beautiful and ever expanding Dress Fabrics collection includes our gorgeous jardin summer prints, a fine selection of different chiffon fabrics and crepe fabrics just to name a few.
If you are interested in taking a look at our impressive selection of Dress Fabrics of different styles and prints you can either do so through our online shop or if you live locally to one of our stores, Neston and Liscard, our staff will welcome you at the door with a smile! Whether you are looking to buy the perfect fabric for your next project or just want a look around we can promise that at the very least you will walk away with inspiration - which is not a bad thing at all!
If you are not lucky enough to live locally to either of our stores but like the idea of having a close up look and touch of our fabulous fabrics, fear no more, we offer a quick and efficient sample service. Our samples are approximately 1.5 inches by 8 inches and all come on individual information card which tells you the name of the fabric, the price of fabric per metre and the composition of the fabrics - our sample service also has FREE SHIPPING!
Dress Fabrics & Craft Cottons
Here at Calico Laine, although we specialise in Dress Fabrics we are constantly supplying you with the latest knitting wools, patterns and craft materials.  Alongside these exquisite craft cottons we also supply a lot of Olfa craft tools. By stocking all of these wonderful fabrics and haberdashery items both online and in-store we aim to make knitting, sewing and all types of craft fast, fun, chic and accessible to all.
If you have had any Dress Fabrics from us that you are happy with, why not find it online, click on 'product reviews' and leave us some feedback! We love to hear what you think.