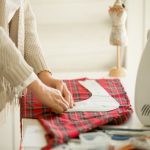 With Christmas fast approaching many of us have started thinking about outfits for all the various social occasions we have scheduled in to celebrate the festivities. Whether it's your work night out, a lunch with your family or a new Christmas day frock then now's the time to start looking at patterns and Dress Fabrics in order make your outfit perfect.
The majority of us have at least one reason to wear a nice dress over Christmas, the nice thing about looking for dress fabrics is that the choice and varieties are endless. There is nothing worse than turning up for your work night out only to find a colleague has the same dress on as you. When you make your own clothes you'll always have the peace of mind that nobody else will have anything similar. It's also important when looking at dress fabrics to choose a style, texture and weight which suits both your pattern and body shape. For instance, here at Calico Laine we have some new stunning silky satin fabrics with large floral designs, these are perfect for loose fitting dresses which skim over the parts which need flattering!!
Double Jersey Dress Fabrics
Another favourite of mine is the double jersey dress fabric, these come in a stunning range of colours and are so versatile. Double jersey is heavy weight stretch fabric which is perfect for a fitted dress, paired with the stretch corded lace and you've got a perfect combination for any party. Double jersey fabric is perfect for both party wear and everyday wear, it washes well and it's easy to work with especially if you're new to working with stretch dress fabrics.
Why not finish off your Festive outfit with a lovely new wool blazer or wrap. This winter we have a new stunning range of reversible pure wools which would make a perfect addition to any outfit. A wool blazer or wrap is the perfect way to keep warm whether you're wearing smart jeans, a dress or a skirt and blouse. The rustic tweed look is very fashionable this season so take a look at our fabulous winter wool dress fabrics to create a style that's very on trend.