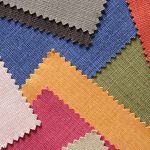 Our Fabric Shop in Neston is one of the busiest outlet fabrics in the area and also comprises our bust mail order warehouse. Stretching over 4500 square feet our selection of goodies includes fabrics, haberdashery, crafts and so much more. Our Neston Fabric Shop is also open to the public so do feel free to come in and browse our selection. Dressmaking and sewing is currently as popular as it has ever been and in order to stay on top of all of the latest trends we are consistently receiving deliveries of stock from some of the most renowned suppliers in the country.
Recently, customers visiting our Fabric Shop are enquiring about dance fabrics - there are a number of high profile dance and drama schools in the area who regularly schedule shows and performances in the local area and are always on the lookout for brand new designs to create their show-stopping costumes. This selection of fabrics is also very popular with education establishments, particularly high schools and colleges. Our latest arrival of high quality dance fabrics includes foil, sequins and lycra and are perfect for creating a variety of stunning dance costumes. When designing and creating dance costumes, one of the most important aspects to consider is
Dance Fabrics
Our collection of beautiful quality Dance Fabrics are in high demand from dance troups and theatre groups. Featuring a selection of fabrics including lycra, foil and sequins our beautiful Dance Fabrics are ideal for creating costumes which will sparkle and shine underneath the stage lights as the wearer glides and twirls across the stage. Of course, movement is of the utmost importance for dancers which is why all of our Dance Fabrics feature a beautiful range of fluid like movement.
Our selection of Dance Fabrics are composed of breathable fibres to ensure that your dancer is as cool and comfortable as possible on stage. Our selection of Dance Fabrics are available to purchase in a variety of eye catching colours and designs and are suitable for performances of any magnitude.