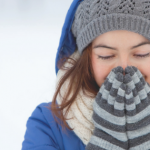 Beat the cold this January by creating bespoke, winter warmers using an array of materials from Calico Laine that are sure to keep you toasty and warm as the cold weather worsens. With our fleece fabrics and wool fabrics you can create a fabulous winter wardrobe, from hats, scarves, and gloves to jumpers, jackets, coats, and home interiors - fleece has many uses!
Fleece Fabrics
Fleece is a great fabric for the winter as it keeps you insulated and warm but is also a breathable fabric which makes it comfortable to wear. If you're looking for affordable, warm clothing this winter then making your own could be the best way. Fleece is generally the cheapest warm fabric but it's very versatile and has lots of qualities, so it's well worth making your own winter garments from fleece.
Fleece particularly works well for outdoor clothing as it keeps you insulated even when wet. It's vegan-friendly and great for anyone who suffers with a wool allergy.
Brighten up your January by creating fleece clothing in our array of colours. From yellow fleece fabric, purple fleece fabric, and even denim fleece fabric there are lots of colours and patterns to choose from that are sure to make you feel chirpier this winter.
Keep warm at night with our fleece fabrics by creating fleecy pyjamas. We have a range of fun printed fabrics that are great for pyjamas, as well as blankets and other home interiors. The options are endless when it comes to fleece fabrics. Using them in your home will immediately create a warming feel. Create throws, cushions or blankets to lounge about with using our luxury fabrics as pictured above, and you will never want to leave your warm and cosy home!
Wool Fabrics    

Although slightly more expensive, wool never fails when it comes to winter warmers and has been used for centuries. There is nothing better than sinking into your cosy wool socks or putting on your woolly hat and gloves to brave the cold, crisp, winter weather. It is an even better feeling when you have knitted these yourself. With our range of knitting wool you can create chunky woolen socks, hats, gloves, scarves or whatever you want to keep you cosy and warm.
Our wool fabrics are great for all the family as we also supply baby wool that is perfect for babies' soft and supple skin.
Why not try our lambs wool fabric as an alternative to knitted wool? This check lambswool fabric would look great in your home on cushions and throws scattered around various rooms.
Both our fleece and wool fabrics can be washed time and time again and are durable enough to be worn for years to come.
Here at Calico Laine, fabrics are our speciality and we want to provide you with the best fabrics that are both practical and aesthetically pleasing. We will find anything to make ourselves feel that little bit better in the winter months and we believe creating your own winter warmers with our wool and fleece fabrics are the way to do this.
Browse our website for more winter warmers or get in touch today by contacting us on 0151 336 3939 to find out more about our fabulous fabrics!