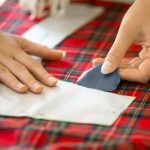 The 1970s, a decade of the style tribe and political rebellion. So what's the best way of celebrating this? On the GBSB of course! This week the GBSB contestants were tasked to create three 70s-inspired garments to encapsulate the varying styles.
Flares
The pattern challenge this week could not have been anything other than a good pair of flares. They are an iconic staple to the decade, and as explained in last night episode, a symbol of rebellion. This was a brilliant way to test the sewers skills as they were asked for a full fly front, pockets, a yoke and a set of beautiful twin-needle topstitching. Not only were they given this testing pattern, it was out with the new and in with the old! All machines were replaced with original 1970's sewing machines. This will show who can really sew under pressure.
Most contestants decided to use a fabric with a 'nap' or 'pile'. This means the fibres sit differently when brushed one way or the other. When working with fabrics such as velvet or corduroy, it is important to cut your pattern with the nap all going the same way. This is to avoid Leah's mishap where one pattern piece appears a different colour to the other.
If you are sewing along at home, we have a huge variety of fabrics that would be great for this design. Corduroy and denim are the best routes to go down. Our range of Denims come in a variety of weights and washes, I would recommend an 8oz Denim in either a light or medium wash for that true 70s feel. If you are feeling more Mercedes, we have a fabulous range of printed needle corduroy to bring out your inner hippy!
Punks
The transformation challenge this week involved safety pins and tartan. The sewers were asked to embrace their inner punk, much to Alexei's dismay, and create a tartan-filled garment. Lots of rips, studs and safety pins later, Riccardo came out the winner.
Fancy a pair of tartan trousers for yourself? We have a stunning range of Tartans in all shades and designs to bring out your inner anarchist.
GBSB - The Maxi Dress
The made-to-measure challenge was to create a 70's inspired maxi dress. Some chose to use original 70's patterns; Janet even using one she had made for her younger self! Using a vintage pattern requires a little size changing but can create something truly special. Juliet shone again with her bring printed number, but it was Mercedes' one-piece sleeve maxi that won the Garment of the Week.
If you are sewing along at home, a maxi dress isn't as daunting as it first appears. You will need a lightweight fabric to make your maxi floaty and comfortable. Why not try our range of Easy Care Fabrics, which are a stunning range of lightweight printed viscose and peachskin fabrics. Getting your fit right is key, so if you prefer something a little easier, try a waist tie instead of fitting with darts to give that 'nipped in' look.