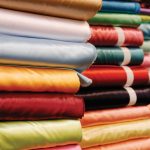 With many people struggling to find dressmaking fabrics in their local area we know how important it is for people to buy Fabrics Online. We do our best to bring high quality fabrics to our customers at competitive prices. We have a number of ranges which we stock all year round however we are always adding to this. Occasionally we stock one of rolls of fabric or we add a whole range. This keeps our Fabrics Online interesting for new and old customers.
Buy Furnishing Fabric Online for your home
Most of the Fabrics Online that we sell are dressmaking fabrics and can be used to make a variety of garment however; a small range of furnishing fabrics have recently been added to the website. These are a selection of heavy velour fabrics which can be used for curtains, cushions and throws. Velour and crushed velour items have been particularly popular in interior design in the last few seasons. They have been especially popular in shades of grey. Along with these a number of tapestry fabrics in geometric and butterfly designs are available which can be used for furnishing.
Craft cotton Fabrics Online
Another new range that we have added to our website is the anthology batik craft cotton selection. We have a lot of customers in our stores who love to work with batik fabrics so we have decided to offer them to our online customers too. These fabrics are 100% cotton and are great for quilting. In addition to quilting, they can also be used for mixed media art and dressmaking. The prints are eye-catching and each section of the roll is unique as it is handmade. At £11.99 per metre, they are well worth the money.
We have a great selection of Fabrics online so be sure to check us out www.calicolaine.co.uk