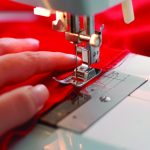 Dress fabrics come in all different weights, shapes, grains and sizes. This is partially why I love working in this industry, the choice is never ending and your options are limitless. This time of year it's wise to choose dress making fabrics which are light weight and breathable in order to keep cool. If you're lucky enough to be travelling abroad then you want garments made of cotton or other natural fibres.
History of Cotton
Cotton, silks and linen are the first fabrics which spring to mind when talking about summer weight dress making fabrics. These are ideal for a warmer climate because they are made up predominately by natural fibres. Cotton is grown on a plant which is closely related to hibiscus. The cotton plant then produces a fruit called the boll; inside the boll is where cotton develops. Once the cotton is farmed it is sent to a mill and made into dress fabric, thread and cotton wools. The nature of cotton material means that it conducts heat away from the body and is highly porous meaning it is breathable in the heat.
Dress Fabrics - Viscose
Viscose dress fabrics are also ideal for this time of year. Viscose blends are developed using wood pulp to produce a cellulosic fibre. This manufacturing process is referred to as regenerated cellulose. Not only is natural dress making fabrics ideal for summer they are also much more sustainable and the process to manufacture them is much greener.
Synthetic dress fabrics such as satin or even chiffon might seem light weight and cool in the summer but they are often oil based which makes then very uncomfortable as they hold onto your body heat. . In today's market people want choice and here at Calico Laine we offer that. We have a fabulous selection of cottons, cotton blends and countless versatile polyester blends. I just depends what you're looking for. Happy sewing!