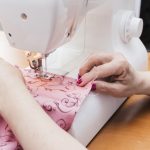 We all love getting dressed up for a Summer event; be it a wedding, the races or even a party of some sort. If the weather holds out (which we hope does this year) parties happen outside in the sunshine. Warmer weather means there are so many more style options available for that perfect occasion outfit. For those talented crafter's; making your own outfit can be a real pleasure, meaning you have a unique piece to show off! Here at Calico Laine, we have a huge array of Dressmaking Fabrics and patterns available for you to look and feel great.
Summer Prints - Dressmaking Fabrics
Bright floral prints are always a great summer showstopper, and our Azure Floral Cotton Print fabric is no exception. The light, breathable handle keeps you comfortable all day at your event. Being 100% cotton, this fabric is washable so no annoying dry cleaning bills! This would look stunning as a fit-and-flare style dress for a Summer wedding.
If you prefer something a little bit more 'wow' then why not try our range of Chinese Brocade Dressmaking Fabrics. These a gorgeous quality and, although a little heavier than a cotton, are still light enough for summer. This would be fabulous in any shape, pair with a fabulous fascinator for that races ready look.
Party Ruffles
Floaty, ruffled dresses are a must-have this season and look fab in the summer months. To help you create these on-trend styles, we have just brought in a brand new range of High Quality Crepe Chiffon. This beautifully floaty fabric has a lovely crepe texture to add that luxury to your project. We have a huge Rance of rich, vibrant colours to help you stand out from the crowd at your event. Layer these over a plain or printed fabric for that perfect feminine look.