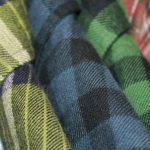 Tartan fabrics have been around for hundreds of years and are the ultimate timeless fashion fabric. Traditional tartan plaids have a strong association with Scottish culture and are particularly popular this time of year of Burns night is fast approaching. Burns night is a Scottish commemoration which celebrates the life and work of poet Robert Burns. Although Burns night is a Scottish celebration, people right across the globe appreciate the occasion and fashion their best tartans in honour of the poet.
History of Tartan Fabrics
Traditionally tartan was made of pure wool and developed by weaving different coloured combinations of threads horizontally and vertically. The first tartan fabrics were very basic and were only made up of two or three colours which were developed by dying pure sheep's wool with vegetable dye. Tartan was synonymous with its own clan or kinship, firstly in the highlands but the trend soon spread.
Today tartan fabrics are very on trend and are constantly being updated for the catwalk.  They are timeless with several specific plaids being most popular. Royal Stewart Tartan is by far the most popular Tartan because of its beautiful bright red background and stunning colours. Another popular one is the Black watch Tartan; this is made using dark, deep colours like navy blue and bottle green resulting in a wonderfully rich cloth. There are over 4000 different tartans but only about 200 of them are made into fabrics.
Here at Calico Laine we have a stunning range of tartan fabrics which are hugely popular right throughout the year but particularly so on the build up to Burns night. Historically tartan fabrics have different meanings and could only be worn by the correct people, today this isn't the case. These days anything goes so if you like the colour combinations then go for it! If you've made anything nice out of tartan fabric then be sure to add your photo to our Facebook page.