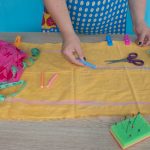 There's nothing more satisfying than creating a brand new dress for your or your family or friends. Dressmaking is an amazing craft to take up that is not only fun but can also be really beneficial when you see how great it is to make your own dresses. This is why we make sure we always provide the best dress fabrics in our store.
Make sure you choose the right dressmaking fabric
When you make your brand new dress, there is nothing better than finding amazing dressmaking fabric to use. With this in mind, we always make sure that we have top quality fabrics in our store, which makes choosing dressmaking fabric that much easier.
All of our customers agree that when you're looking for fabric for dressmaking it is always helpful when you can find a store that you know has amazing fabric at great prices. This is also useful when you are looking for online dress material, as it means putting a lot of trust in the quality of the material that you are buying online.
However, all of our customers always leave our store feeling happy with the quality and price of the new dressmaking fabric they have found, meaning that we know we can always guarantee amazing results for all of your creations.
There's no better place for your online dress material needs
When looking for your dress fabrics online you want to make sure that the fabric store you visit has plenty of materials available for you. When you visit our store you can find a wide selection of fabrics that are perfect for creating any number of dress ideas. From lace to chiffon to cotton to velvet, there are so many different kinds of dressmaking fabric available in our store that you'll never run out of choice.
It can be hard to take up dressmaking as a hobby, but if you know you are entering the craft with the best materials that you can find then you won't have to worry too much about the creations that you produce. We're the best store that you can visit for dress fabrics, so you don't have to look anywhere else for your dressmaking fabric needs.