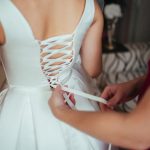 2019 is upon us, meaning Wedding season isn't far behind. Here at Calico Laine we have everything you need to create your dream Wedding Dress. Whatever your theme or colour scheme, we have something special for your big day. If you are making your own dress or having a tailor create a bespoke piece, our range of Bridal Fabrics make it easy to bring your vision to life.
Haven't decided on your perfect dress? Why not try some of the top trends for 2019 to spark your inspiration!
Elegant Luxury
Elegant Luxury is the top trend for 2019 weddings, taking inspiration from the stunning Meghan Markle's Givenchy gown. Our beautiful Duchess Satin is the perfect bridal fabric to create a timeless classic dress fit for a Princess. If you would prefer your gown to have a little more drape, our Stretch Duchess Satin has a beautiful soft handle. Duchess Satin gives that matt textured look which allows for the cut of your gown to shine. Add some delicate waist details to complete this minimal trend.
A highly embellished long veil creates that gentle air of mystery as you walk down the aisle. Our range of pearl trims and Gutermann seed beads give that exclusive feel to your veil. Our Extra Wide Veiling is beautifully soft and 275cm wide to allow for that dramatic train. Every girl deserves a big entrance!
Romantic
For a more delicate approach, feminine fabrics and laces are key bridal fabrics. We have a stunning range of laces and embroidered fine nets in a wide variety of colours. These can be overlaid to create a full lace fantasy, or can be used as smaller more delicate details. Pretty and feminine is key for this trend.
Our gorgeous Cationic Chiffon is definitely a firm favourite with brides, it's super soft handle and two-tone shades creates something truly special. This is the perfect fabric for that floaty romantic bridal look.