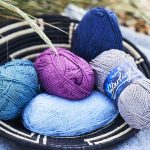 Many of us are finding ourselves at home with a lot of spare time on our hands at the moment. One of the best ways to occupy idle hands is to do something creative. So, lets dig out those knitting needles. Pick up that ball of wool and that pattern that you have been meaning to start for months and let's get knitting!
We have got so many different types of knitting wool on our website, and one of our biggest sections is the Baby Wool.
Our range of Special Babies DK Wool is one of our most popular. It comes in nine different pastel colours and is excellent value for money. This is a great all-rounder yarn, that you can use to create all sorts of items from clothing to blankets. As you expect from a Baby Wool, this 100% acrylic yarn is also super soft, which means it is delicate upon babies' skin, avoiding any scratchiness. The best thing about this wool though, is that it will stand the test of time with both the washing machine and the tumble dryer. Surely that's every parent dream when it comes to baby clothes and accessories.
For something a little bolder, perhaps you could try the Stardust Wool. Whilst this range is still sympathetic to classic pale baby colours, it also includes Poppy red and Holly green. Once again, this is a beautifully soft yarn, yet what makes it stand out from the crowd is the glitter fibres that run through it. This just gives your handmade garment an added subtle sparkle, meaning it is perfect for special occasions.
The Wondersoft DK Prints range is one of my favourites, and it's not just because they are charmingly named after nursery rhymes and fairy tales. Shades such as Georgie Porgie and Rapunzel are self-striping, combining complimentary colours. But there is also colours like Miss Muffet and Little Boy Blue. These simply have flecks of colour running through them. All eight of the different Wondersoft Print yarns are delightful and adorable when knitted up; perfect for any little bundle of joy.
You can find all these different baby knitting wool's on our website, plus many more. You will also find a wide selection of knitting patterns to suit each style. So, there is no reason to feel uninspired, or bored whilst being at home.