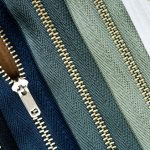 When you buy zips online there are so many to choose from, especially at Calico Laine. Open end or closed end, plastic or metal, invisible, extra-long; the list goes on. There is a lot to consider when choosing the right one. We provide both the best quality zips and the knowledge of what zip would be best for your project.
Buy Zips Online - Closed End
Our most popular range of zips that we sell online are our YKK dress zips. These zips are closed end meaning they join at the bottom. As such they are perfect for many items of clothing, like skirts, dresses and blouses. We stock over 50 colours, so matching to your garment won't be a problem. And they all come in a range of sizes, from 4 inches up to 22 inches.
An alternative to the dress zip would be the concealed zip. Just like the dress zip it is relatively lightweight. However, when sewn in correctly it will not be visible. Instead it will simply appear as a seam. This will give a sleeker finish to garments. As a result, they are a popular choice for formal wear or occasion wear. These zips also come in a range of colours and sizes.
Buy Zips Online - Open End
If you need to buy zips online that opens at both ends, for example for a coat or jacket, then we have a few different ones that may be suitable. Our best sellers are the plastic open end and the nylon open end. Sizes start at 10 inches and range up 30 inches (or 36 inches in selected colours). As with the dress zips, the teeth on both style zips will match your fabric, so all you need to do is pick the perfect colour from our extensive selection. If you would prefer to stand out and make more of a statement with your zip, perhaps you could try our metal open ended zips. These are also ideal for coats, jackets and knitwear.
We also stock heavy duty plastic and metal open ended zips for those projects that require a more robust zip. These are a popular choice for heavier items of clothing, such as leather jackets or work wear.
You may still be unsure what zip best suits your needs, and with so much choice online we don't blame you. If you do require some extra advice or guidance, we are always happy to help. Whether it's the style of zip you are confused about, or you would like us to colour match to one of our fabrics, we will do everything we can to find you the perfect accompaniment to your project.