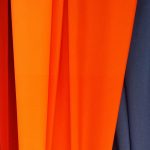 Starting a new dressmaking project can be quite daunting. There are so many decisions to make. The style, pattern, colour and most importantly, the fabric. Here at Calico Laine you will be spoilt for choice with Dress Fabrics, so unfortunately that may make your decision harder. However, our team are always on hand to help. We pride ourselves on our knowledge of current and upcoming trends.
Choosing your Dress Fabrics
A good starting point when it comes to choosing a colour for your dress fabric is to look to Pantone Colour of the Year. According to them, the colour for 2020 is Classic Blue and we are loving it. It is a calming and tranquil colour yet it is strong and dependable.
A fabric that I think fits this brief perfectly is our Midnight Medium Weight Duchess Satin. This is a beautiful dressmaking material with which you could create a very chic evening dress. Likewise, you could go for our Navy Stretch Duchess Satin. This is very similar to traditional duchess satins, but with a slight difference. It will provide the same kind of sleek fit, but the 3% lycra will give the added bonus of stretch and comfort.
Another great choice of fabric for an evening dress is our Woven Velvet. It comes in ten stunning colours, but if we're sticking to Classic Blue idea then I would recommend either the Steel or Blue. These are right on trend. Despite being quite a dense fabric, its one-way stretch allows it to drape beautifully. For this reason, I would suggest a fit and flare style dress. It is definitely a stand out fabric in my opinion, and is sure to make a statement.
Crepe Fabrics
For a more subtle option, why not take a look at our Heavy Moss Crepe Fabrics. This is a high-quality material composed of 100% polyester. Its lovely texture and slight mechanical stretch make it easier to achieve a comfortable, tailored fit. As such, it would be perfect for a lightweight suit.  Now, what says strong and dependable quite like a women's power suit? Perhaps in our most popular colour, Campanula? This is a delightful pale blue, which I would certainly describe as calming and tranquil.
Of course, these are just a few ideas of where to start when it comes to selecting your dress fabrics. The best way to help you choose is to head to one of our stores so you can actually see and get a real feel for the fabrics. Alternatively, take advantage of the sample service which we offer through our website. This way you can make sure that you are making the best decision to suit your own personal style.