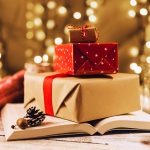 The presents are almost wrapped, the fairy lights are twinkling..it's official..Christmas is almost here! Christmas Day is not complete without a glamorous outfit to feel fabulous in. Here at Calico Laine we have a huge range of patterns and dressmaking fabrics to suit every sewing ability and style. From a simple skirt, through to a glitzy dress we can help you bring your ideas to life. Everybody deserves to feel extra special at Christmas!
Our extensive range of dressmaking fabrics is always changing with the trends and seasons. We love bringing you new colours and textures to play with, whilst never forgetting our favourite staples. From satins to jerseys, we have everything you need to make heads turn.
If you're new to dressmaking or just fancy giving it a go, I would recommend starting with a simple skirt in a fab colour. Circle or pencil skirts are a great go-to and super easy to make for yourself or a friend. Why not try our range of tartans for a festive twist, these are sturdy with no stretch so they are easy to cut and sew up quickly.
Christmas Glam Ideas
Fancy something a little special to get into the festive spirit? Our Woven Velvet fabric is the perfect WInter Glam fabric, both luxurious and cosy in a range of beautiful jewel tones. These have a soft feel with just enough stretch to drape nicely over the body, perfect for that Christmas Day dress! These are super easy to work with and will bring that wow factor to even the simplest of patterns.
For the more ambitious, we love our luxurious range of Duchess Satins. Available in a variety of weights and stunning colours, these are an absolute staple dressmaking fabric. Fancy making a feminine blouse to pair with your favourite jeans? Look no further than our medium weight duchess satin; lovely and drapey in plenty of colours, you will whip up a great piece in no time.