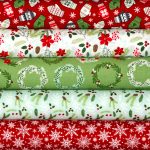 With the sound of jingle bells in the air and Christmas lights on every corner, there is no mistaking that the festive season is well and truly here. So, let's get stuck into some Christmas crafts, (if you haven't already) with our wide range of Christmas Fabrics. With something to suit everyone's taste, colour scheme, and budget you'll be spoilt for choice!
Decorations
Add a little more magic to Christmas this year by creating your own decorations. Whether you simply hang your stockings by the chimney with care for decorative purposes, or come Christmas morning they are filled with gifts and goodies. By making your own you can add that special personal touch. You could mix and match our festive fabrics or even add a faux fur trim to give it that extra Christmas twist. Similarly, you can mix and match to create beautiful bunting or tree decorations. For the little ones, we would definitely recommend our Santa, Rudolph and snowmen fabrics. If you're thinking simple and elegant is more your style, then have a look at our Silver Snowflake Metallic Foil Christmas Fabric or the White Reindeer Cotton Christmas Print Fabric.
Table Dressing
We know a lot of people like to make a statement with their Christmas table, with runners, cloths, placemats, and napkins; and we have got the festive fabrics to do just that. If you prefer the more traditional colours of red, gold and green, then here at Calico Laine we've got plenty of designs for you to choose from. Alternatively, if you fancy going for something a bit different why don't you check out some of the more understated snowflake and star prints, or even try the increasingly popular scandi trend.
Whatever you decide upon, you can be assured that our 100% cotton Christmas fabrics are excellent quality, and will last for many Christmas's to come.