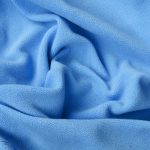 As September begins, we are all starting to think about when the cold weather sets in. If you are anything like me, this means cosying up on the sofa with a cup of tea. Here at Calico Laine, one of our absolute favourite cuddly fabrics is our huge range of Fleece Fabrics. We have an ever-expanding variety of prints and colours for you to choose from. Whatever your project, we have something for you!
Hats, Gloves and Scarves
For a quick and easy project, why not try turning our Luxury Plain Fleece fabrics into your own accessories set. Fleece will retain its insulating properties even when wet, so this is perfect to help you brave the outdoors. Using two contrasting colours can be a great idea to give a reversible twist to your project!
Onesies
For those a little bolder in their sewing ability, creating a fleecy onesie can be a real treat. Our fleece fabrics are incredibly soft, making them ideal for all the family. Why not try our Unicorns Fleece Fabric for an on trend, fun print. Pop into store to browse our wide range of patterns if you prefer to follow instructions when making your customised onesie.
Blankets and Quilts
Fleece fabrics make the most beautiful blankets and throws for your home. Our Luxury Cuddle Fleece has a supersoft snuggly pile to keep you and your little ones cosy this Winter. For cute baby blankets, our Dimple Fleece has a stunning texture and is incredibly soft on sensitive skin. All our fleeces make stunning throws, and you can even create a matching pet bed for your four-legged friends!
If patchwork quilting is your craft, why not try backing your project in one of our fleece fabrics to create an extra-cosy finish. This is great for giving an extra layer of warmth when the nights get longer.