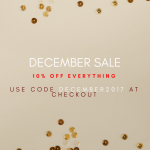 When buying fabric online during this time of year there can be no two better words to read than: 'December sale'. So we've decided that we want to treat you all to the chance to buy your Christmas and winter fabric online with us now for a discounted price!
Amazing fabric sale online now
If you need another reason to buy fabric online with us other than the amazing quality of all of our products and the fantastic prices we already have, then just take a look at our new sale on our website!
Our fabric sale gives you the opportunity to buy all of the products you'd had your eye on but hadn't purchased yet, with many individual items like our red tartan fabric already on sale. As well as this, you have the chance to apply a 10% discount on everything in your basket when you reach our checkout!
Having the chance to take 10% off your purchases means that you can save an amazing amount on everything you order from our website - already on top our incredible prices and individual fabric sale.
Our Christmas fabric is still available - grab it before it's gone!
All of our Christmas fabric is still available in our stores and online, so you've got plenty to choose from when browsing through our products. With so many options of what you can make and design from all of our fabrics, you should definitely embrace our fabric sale.
Christmas fabric is such a useful purchase, whether it's for yourself or for a gift, so we always make sure we have an amazing selection of fabrics to choose from for anyone buying fabrics online. 
We're always interested in learning what our fabric will be used to create, so don't hesitate to find us on social media and let us know all of your plans for everything you've bought during our sale!