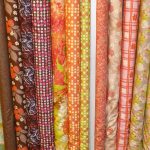 It's that time of year again. We are starting to get a lot of new fabrics in, ready for a brand new season. Our Craft Cotton department is currently bursting full of new beautiful colours and patterns for you to take a look at. They are made from 100% cotton, which means they are of the highest quality, and perfect for all your Spring time crafts.
If it is rich, bold colour palettes that you are wanting, then look no further than the Batik range of fabrics we have in stock. Batik is an old tradition of dyeing cloth, originating from Indonesia, whereby wax is used to create stunning patterns. As such, many consider it both a craft and an art form. Our Batik craft cottons make the most of bright, vivid colours. Because of this they are one of our most eye-catching and popular fabric ranges.
Pastel Craft Cotton Fabric
Alternatively, for those who favour softer colour ways, we have a delightful array of pastel shades in our Craft Cotton fabrics. From pale pinks and lilacs, to soft greens and pale blues, there is something to suit everyone's taste. They come in a range of patterns, such as spots, stripes, and zig zags, which perfectly compliment each other. For more intricate prints, I highly recommend checking out the delicate floral and paisley patterns as well.
If you prefer a quirkier printed fabric, then we've got you covered. The nautical 'Town by the Sea' range are perfect for any seaside lover. There are five different patterns, that look great when used together, for a quilt perhaps. But they also look superb as stand-alone fabrics. Similarly, we have a collection of Craft Cottons in a stunning shade of jade that work so harmoniously together. Although the pattern designs range from butterflies to daisy's, dandelions to leaves, it just makes perfect sense to use them together.
Whether you are creating a quilt, starting a patchwork project or daring to dressmake, we have made it super easy to navigate through your options on our website. Simply head to the Patchwork heading. Under both the Plain and Patterned Craft Cotton section, all the fabrics are categorised by colour. So all you have to do is decide on a colour scheme for your project!