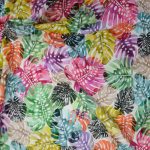 With the glorious sunshine already making an appearance, now is the best time to dig out those summer dress patterns. Just in time to create new summer pieces. Whether you are making an eye-catching statement piece or the perfect staple item for your summer wardrobe we have the fabrics for you!  We have a stunning range of dressmaking fabrics that are ideal for getting you through the summer months.
Linen Fabrics
This fabric is always a popular choice for summer dressmaking projects due to it's temperature-regulating properties, meaning  you will never have to worry about feeling too hot or too cold. Linen fabric is one of the oldest textiles in the world and is favoured for lightweight clothing. This versatile fabric can be made into beautiful sundresses, elegant blouses, or the all time favourite of Linen trousers. Our range of Linen includes a variety of colours and compositions. Bold, bright colours and patterns are the summer trend for 2020, or you could keep it traditional with classic neutral tones.
A statement piece this summer wouldn't go a miss! With bold, bright, exciting fabrics trending for summer 2020, why not add a pop of colour into your wardobe?  Floral prints are always a summer favourite, and at Calico Laine we have a wide variety to suit everyone. A popular choice for many including myself is our mini floral cotton poplin's or our Tropical ferns Fabric for those who like a larger print. Cotton is a summer essential for keeping you cool and comfortable in the sun. With a array of attractive prints from spots, stripes, animals, to small and large floral prints we have the fabrics you need to keep in style this summer.
Stretch Fabrics
For those that prefer a more light, delicate, easy care material we also have some fabulous printed cotton lawn fabrics or a stunning floral ripple polyester, a personal favourite of mine. These have a luxurious drape and are excellent for maxi dresses, skirts or even blouses for a cooler summer evening. Our plain or patterned Four Way Stretch Jersey Fabrics are ideal for people who prefer a more comfortable stretch within their summer wardrobe. Our plain Four Way Stretch Fabrics come in an array of colours perfect for those wanting a bright statement piece or those who would prefer a more neutral colour. Stretch Fabrics are perfect for maxi dresses and skirts and can also make elegant evening wear.