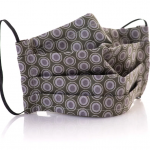 It has been a strange old year. We are all just trying our best to get through it however we can. The best thing about it though is that we all seem to have had a lot more time on our hands. Here at Calico Laine we are thrilled that so many people have decided to fill that time with sewing, crafting and making things out of our lovely fabrics.
Fabrics
Given the sudden changes to way we go about our daily lives, it is no surprise that the number one stay-at-home activity is making face masks our of Fabrics! These are relatively easy to make. You can find everything you need with us or maybe even lying around your house. Firstly, you are going to need a lightweight, tightly woven fabric; 100% cotton is preferable. We have an extensive range of beautiful cotton poplin fabric that have been very popular, both plain and printed. As a result, you can make sure you've got a mask to go with every outfit, if you wish. Alternatively, you could also use bed sheets, an old shirt, or a bandana to create your mask.
It is also recommended that you should have a non-woven interface fabric layer in reusable masks, that acts as a filter. We stock a range of Vilene products that are perfect for this. Both sew in and iron on are suitable, but the fusible F220 has been our most popular.
To secure your mask you also need elastic. We have variety of different ones that are face mask appropriate, such as round elastic or flat elastic. The latex free elastic has proved a popular choice for its anti-allergy properties and its super soft feel.
Reusable, homemade fabric face masks don't have to cost the earth, and they also don't harm the earth as they are more eco friendly than the single use masks. Washing them 60 degrees also ensures that any harmful particles are killed. It's so important that we all keep safe during these times, and whether you are making masks for yourself or donating them to others, you can still have fun with them. The funkier and more colourful the better in our opinion!