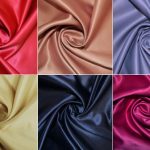 We talk about Duchess Satin Fabric a lot here at Calico Laine, and this post is no different. We are very proud of our high quality, versatile range and are always looking to expand. Our team aims to offer the best products available to suit every possible project your imagination could conjure up. This is why we have introduced our brand new Pearl Faced Duchess Satin Fabric range.
Soft Touch Surface
There are two main reasons this beautiful fabric stands out from the crowd. The first being the weight. Slightly lighter than our main range, yet heavier than our medium weight; this fabric is ideal for dresses and skirts that require a soft drape. It still has great body to it, meaning all that lovely structure and gathering you do will stay in place without feeling heavy. The 100% polyester composition makes this easy to handle while creating your design.
The second distinction is the soft touch, almost nap-like, feel to the surface. This adds an extra feeling of luxury and elegance to each garment you create. This would make a truly stunning wedding or occasion gown! A soft touch surface is a truly unique quality to a duchess satin and we simply could not resist adding this to our range. It adds to that delicate look only a duchess satin can give to a garment; enhancing the distinct low-lustre shine of this iconic fabric.
Style Inspiration - Pearl Faced Duchess Satin Fabric
Love this fabric but need a little design inspiration? Why not try making an elegant circle skirt for a special occasion outfit alternative. Midi-lengths are particularly on trend and a stunning fabric such as our Pearl Faced Duchess Satin Fabric would really elevate this simple pattern. You can either cut a full or half circle of fabric, depending on how 'full' you want your look to be. Then add a waistband and zip, hem to your desired length and you are ready to hit your party! Stand out from the crowd at a Wedding or even the Races...
For that perfect Bridal Gown, why not layer our Pearl Faced Duchess Satin with our range of stunning laces and cationic chiffons. Whatever your style, this fabric is sure to turn heads as you walk down the aisle.
Our specially selected colour range is perfect for any design or event. From gorgeous pastels and neutrals through to rich brights, we have you covered.