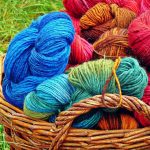 Knitting is an extremely popular hobby for all ages. You can create almost anything with Knitting Wool. Items such as clothing, accessories and interior items can all be made by knitting. Different wool's are particularly effective for different items you are creating. Here at calico laine we stock a variety of Stylecraft Knitting Wool in many colours and designs.
Aran Knitting Wool
Aran Wool is named after the piece of clothing - the aran jumper. It is a medium weight yarn that is ideal for creating clothing pieces such as jumpers and cardigans. As well as these items, it is also a great choice for children's clothing and home ware pieces. Aran wool is a popular choice due to its soft feel and hard wearing qualities. It is 100% machine washable and composed of premium acrylic and wool. We stock two different types of aran wool- life aran and special aran that are both made by stylecraft.
Baby Knitting Wool
Our range of Baby Knitting Wool is perfect for those who love to create beautiful children's clothing. Knitted baby items are loved by everyone due to the cuteness of the baby dressed head to toe in knitwear. You can knit babies clothing, accessories, blankets, toys, the list is endless. Our baby Knitting Wools are all made by Styelcraft and come in a variety of colours and designs to choose from. Each ball is extremely soft and long lasting which is what you want in a baby item.
Chunky Knitting Wool
Chunky Wool is the more heavier weight wool out of all the ranges. When it comes to chunky Knitting Wool, its all about warm, winter items such as hats, scarves and jumpers. They are ideal for the colder season due to their softness, comfort and weight that keeps you extra warm. Our range of chunky wool's are made by stylecraft. They are extremely easy to care for, wash and keep up to high standard making them popular with our customers. They are available in different weights giving you the option to choose a yarn that is extra chunky for those warmer items you are creating.
Double Knit Knitting Wool
Double knit yarn is often the most popular out of all our Knitting Wool's. It is a medium weight wool popular for creating jumpers, scarves, hats and many more items. Double knit garments are ideal for all seasons. They can keep you warm in cooler months and are breathable enough for the warmer months. We stock a variety of double knit wool's by Stylecraft that come in different sizes, colours and designs. Our most popular range has to be the 100g special double knit wool. This is our most bought wool due to the large number of colours available and the long lasting qualities it offers.
[caption id="attachment_13096" align="alignleft" width="150"]
Special Babies DK Knitting Wool[/caption]
If you are a knitting fanatic or a beginner take a look at our full range of Knitting Wool's we have available. Each category will give you the insight on what each Knitting Wool is used for.