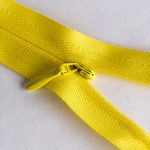 When it comes to dressmaking, there are a number of different fastenings to choose from to fasten a garment. You can choose from zips, press fasteners, hooks and bars and buttons. The best selling fastener at Calico Laine is no doubt zips. Whether you are sewing a jacket, knitting a child's aran cardigan or making a bag; zips are one of the most reliable and have a great aesthetic. Zips come in a range of styles including dress zips, Concealed Zips, metal zips, jeans zips just to name a few.
Concealed Zips give a garment a better aesthetic
When making clothing, especially dresses, there is a choice to use an ordinary dress zip or use Concealed Zips. A concealed zip can be a little more difficult to sew into a garment however in my opinion, it gives the garment a neater finish. With a concealed zip, the teeth cannot be seen; the only visible part is the pull. This can be particularly useful if you are struggling to colour match your fabric to the zip.
Large choice of colours in concealed zips
Here at Calico Laine, we have recently added new colours to our range of concealed zips; also known as invisible zips. This gives you a lot more choice than previously. All these zips are available in 4 sizes including 8", 9", 16" and 22". If these sizes are not the desired size for your outfit, they can be altered to fit. Concealed zips can be 'sewn over' at the bottom to create a new ending to the zip. The excess can then be trimmed. Alternatively the zip can be left in the item if there is not much excess for example in a bag where it will not cause an obstruction.
[caption id="attachment_13120" align="alignleft" width="150"]
Bright Royal Concealed Zip[/caption]
Sewing in a concealed zip
When you sew in a concealed zip, most people like to use a invisible zipper foot on their machine as this makes it a lot easier to insert the zip. This zipper foot allows you to get as close to the edge of the zip as possible for a neat finish.