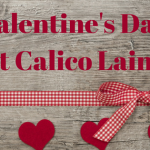 It is approaching that time of year again when you have to begin thinking about choosing the perfect Valentines Day gift for your loved one. It can be a difficult and often expensive task choosing the right gift, particularly for the lady in your life. Luckily, we're on hand to get you fully prepared for the big day with priceless and personal Valentines Day gift ideas.
Satin Fabrics
If you are looking for gift ideas we suggest handmade gifts are the way to go if you want to show the one you love that you've put care and thought into their gift. Handmade gifts are far more personal and unique than ready made gifts. We have a range of fabrics and accessories for you to create a special gift yourself, or feel free to have someone else do the making for you and pass off the present as your own!
Satin is the ideal fabric for Valentines gifts. It's a lustrous material that's perfect for creating elegant and glamorous pieces. If you are looking for gifts on a budget but still want that luxurious and expensive look then satin fabrics are the right choice for you as they are an inexpensive alternative to silk. Satin works particularly well for lingerie and nightwear. Create silk dresses and matching pieces in a range of colours at an affordable price. We recommend our Stretch Duchess Satin Fabric for making these types of garment due to its perfect, flowing drape and glossy, glamorous finish.
If you're sparing no expense this Valentine's Day then why not opt for a more premium and expensive silk fabric. Silk is soft on the skin and will keep the wearer warm in the winter and cool in the summer making it practical as well as elegant!
Perfect Accessories
We also have all the fabrics and tools needed for creating accessories such as bags, hats, home accessories etc. With our range of luxurious fabrics and accessories you can create a special gift for your loved one.
Faux Fur
Faux fur is another luxurious and inexpensive fabric. For an alternative to the traditional Valentines gifts, try using faux fur to create throws or cushions to update your home. We have a range of colours to match your decor and this cosy gift will create a relaxing atmosphere.
Bag Accessories
A handbag is always well received as a gift, but there are lots to choose from and they can often be expensive. We have lots of bag accessories available so you can create your own design or, if your partner's favourite handbag is showing wear, why not forgo a new bag in favour of repairing the old one? We have a wide range of bag accessories such as replacement handles and shoulder straps that can help you to bring an old loved bag back to life.
Valentines Day Gift Ideas from Calico Laine
With our guide to the best handmade Valentines Day gift ideas, there's no excuse to be frantically running around for your last minute gifts. A well thought out, handmade and personalised gift will be more precious to your loved one than any other gift. Need more help? Get in touch today by contacting us on 0151 336 3939 or browse our website for more gift inspiration.