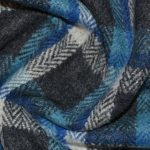 Winter weather means one thing; a new winter wardrobe. Our light weight clothing is a distant memory and we are wrapping up in warmer, cosier attire. Here at Calico Laine we've got you covered with all the winter fabrics you could possibly need to get you through the cold months.
Wool Fabric
Wool fabric is an obvious choice when it comes to wrapping up warm as it's nature's insulator. We have a beautiful selection of wool's, in a range of colours and patterns, many of which are also reversible. They are very hardwearing fabrics, meaning that whether choose to make a coat, dress, or skirt, your garments are going to last through many winter seasons to come. In addition to these, I would also definitely recommend our Melton fabrics, as they mimic the look and feel of wool. With 18 different, stunning colours to choose from you can guarantee to find something to suit your taste.
Corduroy Fabric
Another fabric that goes hand in hand with the colder weather is corduroy. It is durable, versatile and comes in a range of different weights and wales, so you can choose the best one for your project. My personal favourite is the Heavy Corduroy due to its sumptuous feel and the range of lovely muted tones that we stock. I'm thinking it would look great made into a pinafore dress, the trouble is I just can't decide on my favourite colour. Check them out on our website, and you'll see what I mean!
So that's the outer wear sorted, but what about the cold, winter nights sat in front of the fire, watching TV?. Both in store and online, we stocked a huge range of fleece fabrics. So, how about a super soft, super cosy pair of pyjamas made from our Luxury Fleece? (And we don't use the word 'luxury' lightly). Or how about taking a look at our Printed Cuddle Fleece fabrics? For the dog lovers amongst us, we have the charming Multi Dogs Cuddle Fleece, and of course our Flamingo and Unicorn Print Fleeces have proved to be very popular with all our customers. No matter what design you go for, this fabric is perfect for making blankets and throws that are going to keep you and your family nice and toastie throughout the chilly months.
However you decide to beat the cold this year, you can guarantee that we have the perfect fabric for you to beat the winter blues, and look fabulous at the same time.