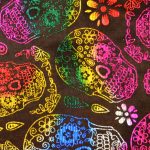 Halloween is right round the corner and, here at Calico Laine, we cannot wait to start decorating and dressing up! We love any excuse to get crafty and spooky decorations really are our favourites. We know it can get a little stressful, so we have made it as easy as possible for you. Simply select our Halloween Fabrics section to easily buy fabrics online straight to your door.
Costumes
Halloween costumes can be simultaneously loads of fun and really stressful, particularly when it comes to kids. If you fancy stepping up the old 'bin-bag with arms and legs cut out' Witch costume, why not try a simple shift dress or cape? Our cheap and cheerful Bi-Stretch fabrics and Economy Satins are great for whipping up an easy costume.
For something a little funkier, check out our brand new range of Pattered Foil Halloween Fabrics. These make great capes and spooky additions to costumes for all the family. Pair with layers of coloured Dress Net or Velvet for a more luxurious feel. For an easy children's tutu, simply gather sections of spooky-coloured Dress Net (Orange, black and Violet work well) and stitch to a length of elastic. Sew up your two loose ends to create a circle waistband and voila! 
Spooky Decorations
Not everyone loves to go all out, but there are a fair few of us out there who simply can't resist a good Halloween Party. Try draping our Black Spiders Web Fabric from the ceiling and mix with our gorgeous Orange Organza. For a more Day of the Dead feel, why not try our Black Sugar Skulls Print Fabric. This adds a little more glam to your Spooky Decorations! For those who need a quick fix, buy fabrics online and take advantage of our Next Day Delivery service.  Tear and fray the ends of your fabrics for that extra feel. Pop on your witches hat and you are ready to party!