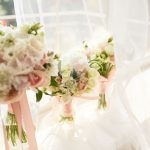 Everyone loves a Summer Wedding, and here at Calico Laine we are no exception. Summer weddings bring lighter Bridal Fabrics and brighter shades. Here at Calico Laine, we have a wide selection of fabrics to help create your perfect day.
Simple and Classic
If your design is more along the understated lines, our range of Stretch Duchess Satin would be perfect for a classic form-fitting gown. Pair this with a classic floor-length veil and you are good to go for your big day. Our range of Veiling Fabrics can be used to create a range of dramatic designs.
Bridesmaids
What bride would be complete without her bridesmaids? Here at Calico Laine we offer a wide range of fabrics suitable for creating your Summer Bridesmaids Dresses. No matter your colour palette, we will always have something for you. For floaty, feminine styles look no further than our Cationic Chiffon Bridal Fabrics. This luxurious fabric is beautifully soft, and our huge shade range means you can match your bridesmaids in with the rest of your wedding. Layer this fabric over our Super Soft Duchess Satin and finish with lace detailing, your bridal party will look stunning along side you.
For a slightly more structured look, why not try our Heavy Moss Crepe fabric. This heavier textured fabric which would be amazing in a fitted, sleeveless style gown. Our range of pastel shades would be truly stunning for that perfect wedding party. Whatever your bridesmaid style, our range of Dress Lining fabrics can be colour matched to your choice of fabrics.
Table Decorating
Not only do we offer a great range to create your dream dress; we offer plenty of options to decorate your reception and tables. Our range of Organza fabrics come in a large variety of colours and finishes to drape over your top table. These add a luxurious feel to your day using a variety of effects.